The Local Omnivore was one of Edmonton's first food trucks, and they quickly won over hearts and stomachs with their craftily smoked meat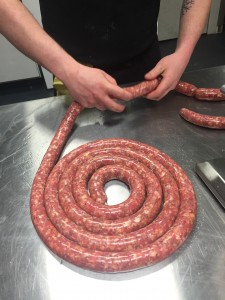 sandwiches and their engaging, honest personas. When word spread that the Local Omnivore crew was going to open their own restaurant, which opened last fall, we let out a collective whoop of joy. No longer would we have to wait another long winter for their gorgeous bacon to emerge from hibernation. If you haven't been to their deli, go! The space is open, comfy, and full of joyous sounds and smells. The giant indoor smoker cradles multiple smoked meats daily, and is an olfactory dream-come-true. You'll have to ask about Fernando, the bull's head, on the wall. I haven't yet, but one of these days, I am going to.
We invited the Local Omnivore crew – Mark, Ryan, Kelsey, et al – to join us for a Kitchen Party so we all share their unique skills with the entire city. (Ok, so that last sentence is a bit ambitious, but we admire what they do and couldn't wait to get them in our kitchen) So, if you don't have plans for Friday night, you might want to learn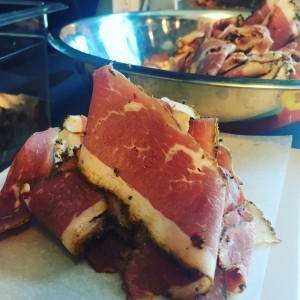 some of their closely-guarded secrets.
The Local Omnivore crew believes in doing everything from scratch, start to finish, so we will be working with some big cuts of meat. We will be trimming beef brisket, pork shoulder, and pork belly – more or less, translating whole cuts into cured creations. We will be learning to make homemade sausages two ways: with sauerkraut and with beet gastrique. We will learn the finer points of "The Big Red One," one of T.L.O.'s signature sandwiches, including how to corn beef from start til finish. If you lust after thick-cut bacon the way we do, we will be learning how to prepare bacon from scratch and how to construct a devastatingly delicious sandwich with the smoky results. Of course, we will be making dessert, but the Crew was a bit coy and decided to surprise us with a sweet conclusion. There is only one way to find out.